News
APRI Thanks Dr. Adewole for her work for the Atlantic Chicken Industry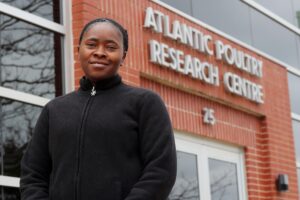 Dr. Deborah Adewole was hired in August 2018 as the Industry Research Chair (IRC), Sustainable Antibiotic Reduction in Poultry Production.  This 5-year appointment was the result of a collaborative effort co-funded by Chicken Farmers of Canada (via Atlantic Poultry Research Institute), the Province of Nova Scotia (via federal-provincial funding) and Dalhousie University.  She also received a 5-year, $90,000 commitment from Chicken Farmers of NS to support her research.
IRC positions are established to address research priorities as identified by the industry.  The mandate of Dr. Adewole's chair position was sustainable antibiotic reduction in poultry production. She concentrated on developing nutritional strategies to improve the health and growth performance of poultry, thereby reducing the need for antibiotics, reducing production costs, and improving profitability.  Her research efforts identified ingredients, such as red osier dogwood and various essential oils, that can be used to improve nutritional utilization, gut health and/or reduce the risk of infection. She evaluated various delivery routes for these ingredients such as in-feed, in-water and in-ovo.  She also identified local 'waste' products such as oat hulls, grape pomace and seaweed that show potential as additives to poultry diets that improve gut health, thereby reducing antibiotic use.
During her term as IRC, she secured approximately $1.8 M of research dollars from a range of funding agencies and programs and published over 30 articles in peer-reviewed journals. She trained 15 students including undergraduate and graduate students, post-doctoral fellows, and research associates. Dr. Adewole presented her research findings at many regional, national, and international conferences and industry meetings. For a full list of her funding partners, published papers, factsheets, and presentations, click here.
APRI wishes to congratulate Dr. Adewole on accepting a faculty position at the University of Saskatchewan starting September 1st.  We wish her every success and thank her for your great work for the Atlantic chicken industry!
---
Jing Lu  Wins 1st Place at Animal Nutrition Association of Canada Conference
Ph.D. candidate Jing Lu, working under the supervision of Dr. Stephanie Collins, Dalhousie Faculty of Agriculture, won 1st place in the student speaker category for monogastric research at the Animal Nutrition Association of Canada conference that was held in Montreal in May 2023. Her video on the impact of feeding black soldier fly larvae meal on the gut health of laying hens can be viewed on the association website, under the heading:
Oral Presentation Competition Winner – Monogastric